Published: Tuesday, May 9, 2023
LETTER: To Heads of Government on planning policy and decarbonization
• The Climate Change Advisory Council (the Council) has written to Heads of Government to highlight a number of elements of the planning system which will be crucial to address throughout the remainder of 2023, in order to meet our climate ambitions.
• The Council has raised concerns on the timelines for delivery of core measures within the Climate Action Plan as we approach the mid-point of the first carbon budget.
In the letter addressed to the Taoiseach Leo Varadkar TD, Tánaiste Micheál Martin TD and Minister Eamon Ryan TD, the Council has outlined a number of recommendations to provide clear and effective forward planning which supports the achievement of our climate goals.
In relation to renewable electricity, the Council has highlighted the importance of a plan led approach to renewable developments consistent with national targets, with well-structured engagement and effective public consultation. The quantity of planning applications presents a challenge to the planning system as shown in Figure 1 below and the Council has provided recommendations to increase the efficiency of decisions and for greater resourcing of the planning system.

The Council has also highlighted the European Commission's recent legislative proposal under Repower EU whereby barriers to the extension of consent for existing wind turbines and repowering of sites should be removed.
The Council has welcomed the opportunity for review of the National Planning Framework (NPF) due to begin this year and urges a better alignment of the NPF with our climate goals. Sustainable residential development reduces transport demand and also reduces the cost of provision of low carbon services such as public transport and district heating. The review offers an opportunity to rethink how Ireland approaches compact growth and to increase this ambition.
Figure 2 illustrates that the volume of one-off housing remains relatively static whilst multi-unit developments and apartments vary significantly over time. Going forward it is vital that new dwellings are predominantly located in multi-unit developments sited within easy reach of existing services including transport, health, education and retail.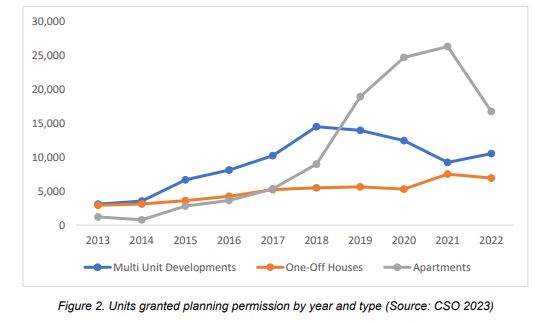 In relation to resourcing of the planning system, the Council has noted that it will be challenging to address the many interdependencies between climate action and planning without addressing its historic and structural underfunding. The Council strongly supports an urgent increase in staffing in local authority planning offices to help effectively deliver national climate policy.
Commenting Chairperson of the Council, Marie Donnelly, said, "The planning system is at the heart of meeting our legislated carbon budgets, particularly for electricity, heat and transport. It is crucial that planning policy gaps are addressed quickly to give greater local policy support for the advancement of the onshore renewable energy projects and compact growth targets Ireland needs to meet its binding targets.
It will be challenging to address the many interdependencies between climate action and planning without addressing historic and structural underfunding of our planning process."
Letter to Government regarding Planning Policy and Decarbonisation
Download this article as PDF
---